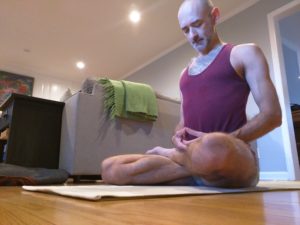 Dan has been practicing Ashtanga since 2010. He spent three years in Brisbane with Richard Clark, and the past five years in NYC with Guy Donahaye; he assisted Guy as a teacher at AYSNYC from late 2014 until the summer of 2018.
The Ashtanga method, coupled with dietary changes, has helped Dan to overcome a variety of physical ailments, including asthma, seasonal allergies, back pain, and IBS. Mentally, the practice has made him calmer, more content, and a better parent. He was taught that this approach to asana is a form of tapasya, or purifying practice (one of the niyamas as outlined in the Yoga Sutras) and found this to be true through experience. Daily Ashtanga practice with consistent breathing can release stress, clear the mind, cleanse the physical body, and increase resilience.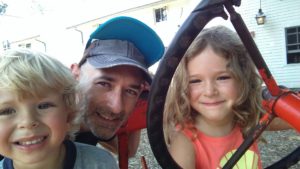 In a previous life, Dan worked in product development, but when his first child was born, he decided to leave the business world to focus on parenting and yoga (in that order). He has two children – Ellery (5) and Reed (3) – and is married to his highly complementary wife, Carly. The family lives in Wyckoff, NJ.