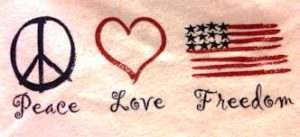 Happy Independence Day!  This year the moon day falls on July 4th so there are no classes that day.  Take the day off and head to your local parade.  The Montclair 4th of July Parade is a tradition around here and it starts at 11 am.   I'll be on Park and Chestnut with the pups.
We hope you come to practice with us over the weekend as we are open for Mysore on Sat & Sun of the holiday weekend from 8 am to 10 am.  Get your practice in and then head to the beach or whatever your favorite weekend events are. Drop ins and beginners are welcome to try. Personally I am looking forward to taking in the fireworks this year.
Lastly the next fun weekend event is the Greg Nardi Mysore & More weekend starting on July 8th Friday evening with 2 sessions on Saturday, July 9th and Sunday, July 10th. Greg comes to visit our Shala often and we are able to build upon what we have been working on.  Added this time is an Adjustment workshop which will give you a chance to try out various techniques on how adjustments are done as well as conference time for in depth questions and discussions on yoga and the practice.  As Sharath says, "sensible yoga questions."  Please register today for this and we look forward to seeing you all and connecting as we delve deeper into our practices.
Namaste!
Deb at AYM